Small control system MSC
Easy to program and multifunctional in use
Compact housing for all modules saves space in the control cabinet
Various diagnostics features – can be read easily on the front, in detail in the software
Maximum safety (PL e, category 4)
Connection of a large number of safety-related devices
Little wiring work
Clear programming interface
Can be expanded easily and quickly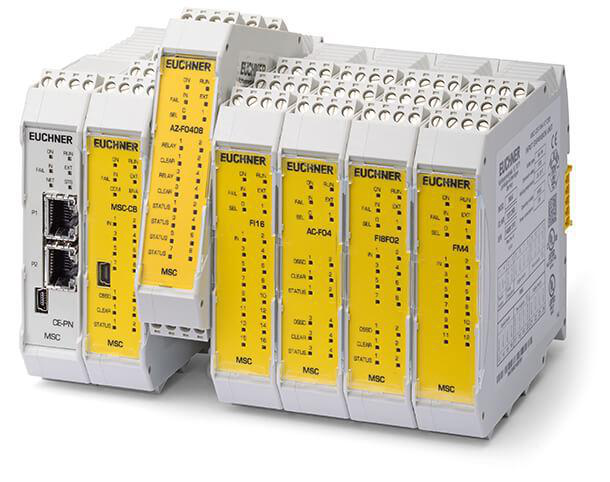 The safe small control system MSC
The safe small control system MSC is a universal, freely programmable, modular safety system for the protection of machines and installations. It is suitable for almost all safety-related tasks and can monitor numerous safety-related devices. Programming is performed easily and conveniently on a PC using the EUCHNER Safety Designer software. Even with only the base unit MSC-CB, it is possible to realize a large number of safety applications with up to 8 inputs and 2 outputs, and that with a housing width of only 22.5 mm.

Can be expanded easily and specifically
Depending on the requirements, the MSC offers a broad range of expansion modules with which the base unit MSC-CB can be expanded nearly without limit. The different input and output expansions can be connected to the base unit with the aid of an expansion connector. Various fieldbus modules can be integrated for straightforward connection to a machine control system. The function of the fieldbus can be specifically defined in the programming. In this way the control system can be used in a read-only role, or to provide control. All common fieldbuses are available to suit the related control system.

Rapid and targeted diagnostics
The MSC offers a range of types of diagnostics. The LED indicator on the front of all the modules provides a straightforward, quick diagnostic feature. In addition, it is possible to access directly the program in the base unit with the aid of the EUCHNER Safety Designer software so that the switching state of the inputs and outputs or the logic functions can be checked in detail. Initial setup is significantly simplified in this manner.

Equipped for an emergency
Each base unit has an internal memory in which the program and all related settings are saved. As an option, it is also possible to use a separate memory module in the device. A copy of the current program is automatically saved on this module. It is then possible to replace quickly a faulty device in an emergency, without a PC.

Protection in compliance with standards
The small safe control system MSC offers a high degree of safety. Performance Level e (PL e) and category 4 in accordance with EN ISO 13849-1 are met by the base unit and all expansion modules.

Clear software
The easy to use EUCHNER Safety Designer software provides an excellent overview of the logic functions programmed, e.g. emergency stop, interlocking devices, light curtains. A dedicated module is available for almost every function; in this way, it is possible to differentiate between an emergency stop and an interlock at a glance.
Products
(32)
No results found