We regard ourselves as a company that acts responsibly and sustainably in everything it does. In addition to caring about social and economic matters, EUCHNER attaches great importance to ecological concerns as well: protecting the environment, handling natural resources with consideration, minimizing energy consumption and using low-pollutant materials are all elements in our strategic approach.
Environmental protection is deeply rooted in our management system too. Our TÜV-certified energy management system in compliance with the ISO 50001 standard enables us to boost energy efficiency and effectiveness while reducing energy consumption. Our ISO 14001 certification supports us in developing and implementing green technologies, processes and products. Thanks to optimized processes, we can achieve savings both on material use and selection and on energy consumption. Our active energy management is already having a major impact.
"Balancing economic and ecological interests will play an important part in safeguarding our company's future. And that's why our sustainable corporate strategy extends far beyond just meeting the legal requirements."
– CEO Stefan Euchner
Our latest CO2avoidance measures
Environmentally and energy-conscious solutions play a key role at our production sites. This is demonstrated by our many recent environmental protection and energy-saving projects, including the systematic analysis of energy consumption values and measures to enhance efficiency and optimize power use.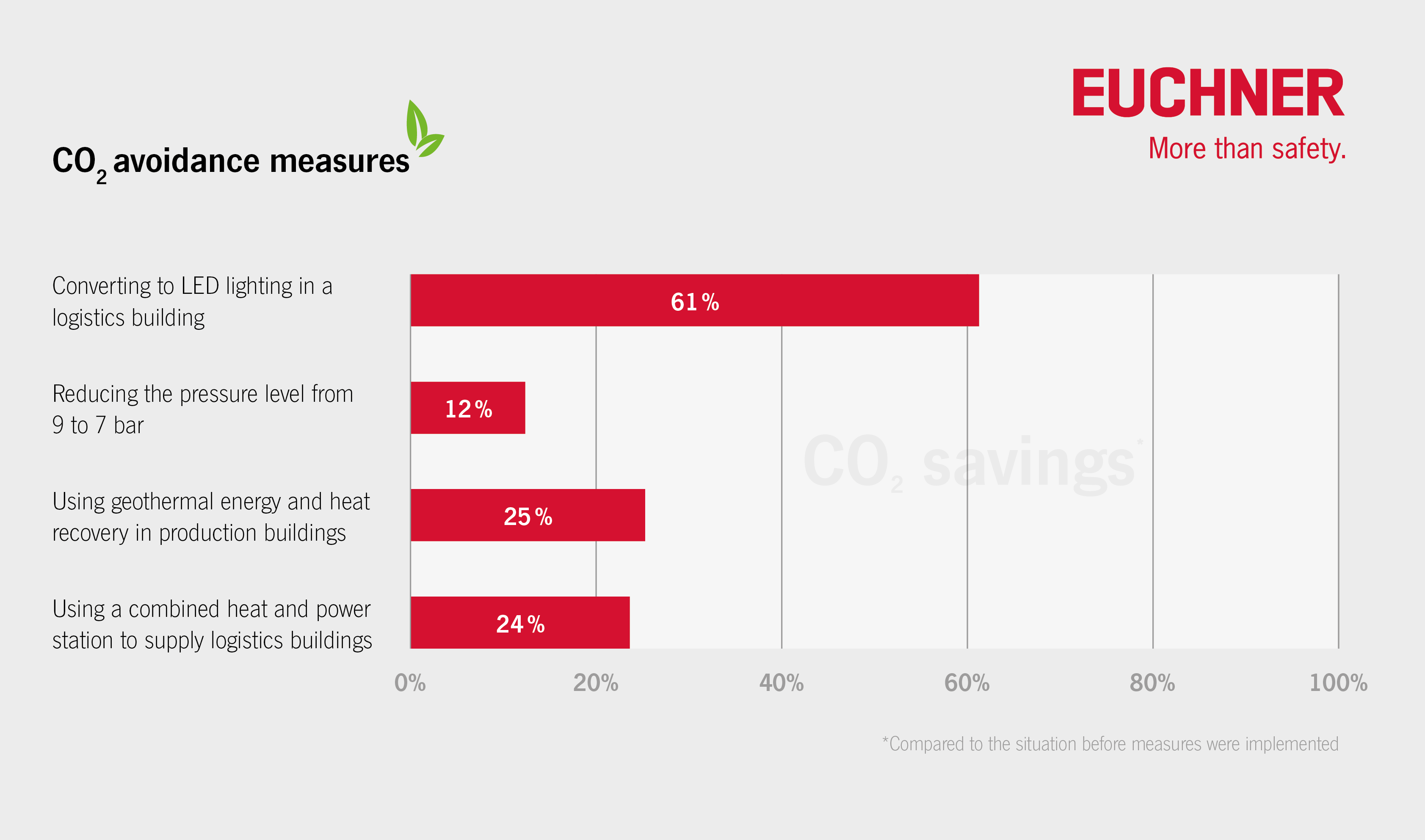 In 2014, EUCHNER commissioned the drilling of 20 geothermal probes down to a depth of 130 meters each to power the heat pump. In this process, one unit of electrical energy generates around 4.2 units of thermal/cooling energy. Heat recovery additionally uses the waste heat arising from the production of compressed air to heat the building.
Reducing the pressure level of the supplied compressed air from 9 to 7 bar in three buildings led to energy savings of around 12 percent.
Converting from traditional light sources to modern LED lighting in a logistics building has enabled EUCHNER to avoid 25.9 metric tons of CO2 emissions per year. This corresponds to 13 round-trip passenger flights between Stuttgart and the Canary Islands.
In 2019, the company put a modern combined heat and power station (CHP station) into operation to supply multiple buildings with both electricity and heat. The share of self-generated electrical power use amounts to around 99%.
EUCHNER has been a partner in the VDMA Blue Competence Sustainability Initiative since 2021. Our membership in the Initiative commits us to uphold the 12 sustainability guidelines of the mechanical and plant engineering industry.

EUCHNER switched entirely to green electricity in January 2022.