CES-BR safety switch
Your advantages
Communicating safety switch. Possible to connect up to 20 safety switches in series
Industry 4.0 ready
Integrated short circuit monitoring by pulsing
Large actuating range
High level of protection against tampering
Diagnostics using LED
Two safe semiconductor outputs
Suitable for applications in category 4 / PL e according to EN ISO 13849-1
The non-contact safety switch CES-BR-C07 is designed for systems in which several safety doors need to be monitored. The small design of the actuator and switch makes mounting on the guard easy.
Industry 4.0 ready
Devices of the BR and BP families can communicate and provide a wealth of device data. These data can be transferred via a gateway to a standardized bus system such as IO-Link.
Design and operating principle
The safety switches are connected together using connectors. The CES-BR-C07 has two safety outputs. In a switch chain, the signals from the safety outputs are connected to the next switch. The outputs on the last switch in the chain are connected directly to drives, downstream safety relays or safe control systems. Mechanical safety switches additionally can be integrated into the chain of CES-BR-C07 devices.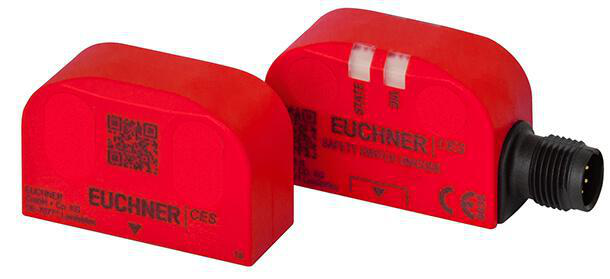 Diagnostic information
In addition to the advantages of series connection, safety switches CES-BR-C07 allow comprehensive diagnostic information to be forwarded to the control system. The devices supply process-relevant parameters in real time. They even provide information on preventive maintenance. The weak-range indication provides timely information about whether the actuator is in the transponder field's limit range, for example. This situation usually occurs when safety doors settle over time, causing the actuator to drift out of the actuating range. The sensors measure relevant parameters in the surroundings to indicate problems before a machine failure can occur. In combination with a BR IO-Link Gateway, this information is polled from each switch in the chain and provided to the control system via IO-Link.
Products
(3)
No results found