Multifunctional Gate Box MGB Ethernet/IP™
Maximum safety, category 4/PL e
Safety system with guard locking, handle and bolt
Integrated Ethernet/IP™ switch
CIP Safety protocol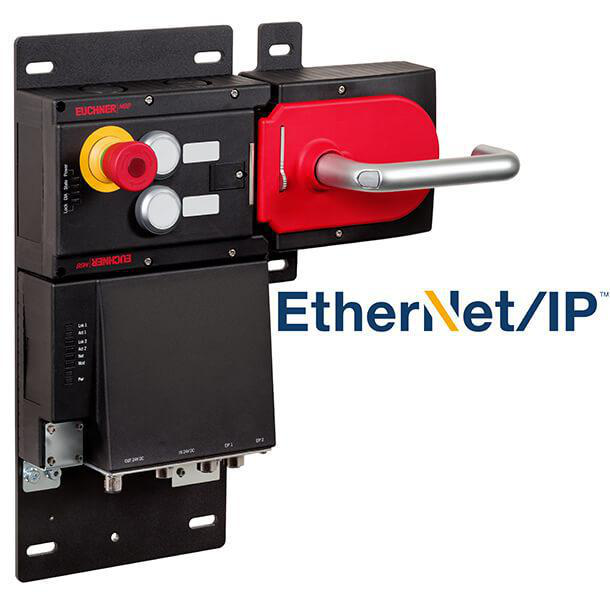 Seamless integration by means of Ethernet/IP™
The MGB is a safety system with guard locking and guard lock monitoring for the protection of safety doors on machines and installations. In the Ethernet/IP™ version, we now also make the wiring easier for you. You define which element is to be integrated and the related function. The MGB supplies the protocol frame with the necessary CIP Safety input and output bytes required. Whether interlocking, guard locking, escape release or other functions such as buttons for start/stop, emergency stop, selector switch, etc. – the MGB meets all requirements for safety-related applications and can be equipped on a customer-specific basis. Comprehensive diagnostic information in the form of Ethernet/IP™ messages provides a fast and detailed overview of the device status. Due to the ease with which parameters can be set, even replacing the system during servicing is a simple matter and takes no more than a few minutes.
Guard locking devices (MGB-L1 and MGB-L2)
Together with a handle module, the locking module makes it possible to lock movable guards. The combination also serves as a mechanical door stop at the same time.
The following switch-on condition applies to the safety outputs OA and OB:
Guard closed
Bolt tongue inserted into locking module
Locking arm in locking position (the door cannot be opened)
The locking module detects the position of the guard and the position of the bolt tongue. The position of the guard locking is also monitored. The bolt tongue in the handle module is moved into and out of the locking module by actuating the door handle. When the bolt tongue is fully inserted into the locking module, the locking arm locks the bolt tongue in this position. Depending on version, this locking is by spring force or solenoid force.
Version MGB-L1: The locking arm is held in the locked position by spring force and is unlocked by solenoid force (closed-circuit current principle, mechanically locked).
Version MG2: The locking arm is held in the locked position by solenoid force and is unlocked by spring force when the solenoid is switched off (open-circuit current principle, electrically locked).
Product finder
STEP 1: Select the type of evaluation module!
Guard locking device
Guard locking principle

STEP 2: Select the desired door hinge position (right, left)!
Hinge position

STEP 3: Select the desired connection!
Connection

STEP 4: Are you looking for a single MGB module or a complete MGB set?
Products
(37)
No results found