Safety switch STP
Description
Based on the plastic-encapsulated safety switch TP with guard locking, the safety switch STP features both an actuating head and an internal cam made of metal. As a result, the switch can be used for applications that require high locking forces (up to 2500 N).
The safety switch STP has a switching element with 4 switching contacts. EUCHNER supplies the STP safety switch with various contact combinations (positively driven contacts / NO contacts).
Dual-channel wiring to achieve the maximum possible safety level is possible with all possible variants. Given the particular property of the switching contacts of switching a minimum current of 1 mA, the safety switch STP is also suitable for use on safe control systems.
Features
Metal actuating head suitable for highest requirements
Two LED displays (optional) for the visual display of the door position and the position of the solenoid
Flexible connection options using three cable entries
High degree of protection IP67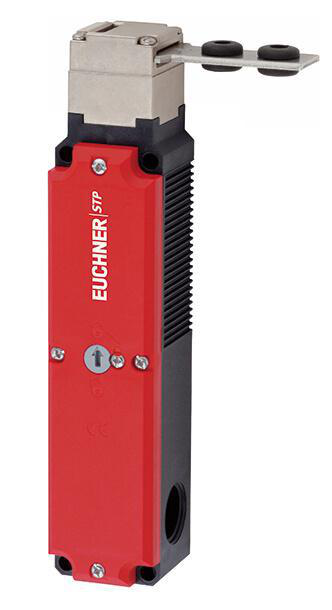 Special versions
Safety switch STP-Twin
For protecting double-leaf sliding or hinged doors using only one safety switch
Only one safety switch for both door leaves
Saving on mounting and wiring
Optional with auxiliary key release
Safety switch STP-BI
If persons are at risk of becoming unintentionally trapped in accessible danger zones, the EC Machinery Directive prescribes the following: "Machinery must be designed, constructed or fitted with a means of preventing a person from being enclosed within it or, if that is impossible, with a means of summoning help."
The safety switch STP with bi-state function is used for the prevention of accidental locking-in inside the danger zone. The guard locking always remains in its current position when electrically isolated (for example, shutdown of the system, power failure…) and meets the requirements on a guard locking device as per DIN EN ISO 14119:
The safety door remains either continuously locked after a loss of power, that is the user cannot enter the danger zone at all Or the safety door can be opened or closed as required, because the guard locking cannot be activated unintentionally due to locking of the guard locking pin
Safety switch STP-Extended
Safety switch with directly integrated controls and indicators
Guard locking, door unlock request, acknowledgment and start directly at the safety switch
Saving on external buttons and their wiring
Wide selection of different buttons, indicators, EMERGENCY STOP, key-operated rotary switches, etc.
Safety switch STP ASi
Safety switch for direct connection to Asi Safety Bus.
Product finder
AS-Interface

Number of guard locking positively driven contacts

Number of door position positively driven contacts

Solenoid operating voltage

Connection

Products
(67)
No results found