Anyone dealing with machines wants to depend on everything being safe. That's also Detlef Ullrich's top priority: the machinery safety expert has headed the Safety Services department at EUCHNER GmbH + Co. KG since 2018. The company recently added safety engineering specialists to its Safety Services team, giving it the capacity to implement appropriate construction measures at the user's location in addition to providing consulting, documentation and inspection services. We spoke about all this with the head of the Safety Services department.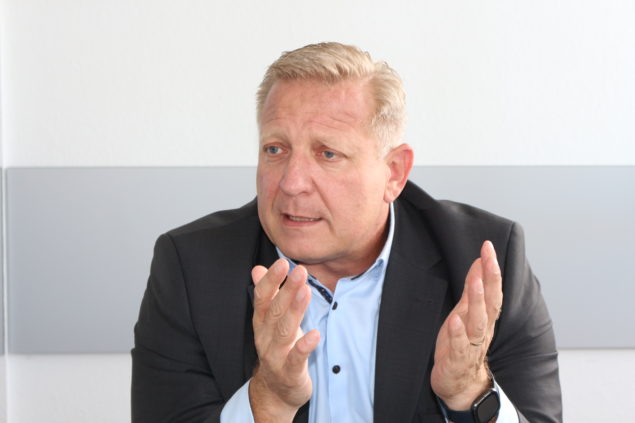 Are you a safety freak, Mr. Ullrich?
Ullrich: Not in my private life, at least not when I'm off work. But protecting people and machines is my passion in my professional capacity. I've been dealing with machinery safety for over 20 years, and find it simply fascinating. Companies come to us with a whole host of different tasks, and our solutions must be just as varied. The bottom line is always about preventing accidents at work. That's what counts.
Do you think safety is a trending topic?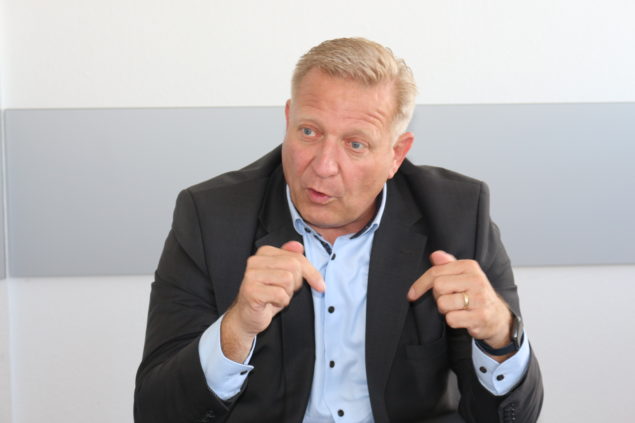 Ullrich: I wouldn't call it a current trend. People have been discussing machinery safety for years. The Machinery Directive already came into force in 1995, after which manufacturers were obliged to build their machines in line with its requirements and obtain a CE marking. They can't sell machines in Europe without one. Machine builders have now internalized that they must meet certain requirements, but things are a bit different when it comes to machine operating organizations. The amended German Industrial Safety Regulation has been in effect since July 2015, and more and more operating organizations are now awakening to their obligation to ensure their machines are safe. The hazard assessment is an important tool in this respect.
We're also seeing a transformation due to the generational shift in the company. People used to say things like, "we've always done it this way." This doesn't mean safety didn't play a role back then. It was just regarded as a given. Safeguards are now being taken more seriously. Younger executives feel personally responsible for this, and consider it their entrepreneurial duty. I feel people are becoming more sensitized to this issue. Employees are also getting more confident about speaking up when they spot safety defects.
What is your approach to offering people safety?
Ullrich: I try to advise customers as thoroughly and convincingly as I can, all the while demonstrating great enthusiasm and sensitivity to their needs. Personal contact is crucial here. That's why we prioritize working in partnership with them to develop safe solutions. And we do this in a way that lets them know we're helping them create added value. After all, properly integrated machinery safety boosts plant availability and productivity. We benefit from the trust engendered by safety specialist EUCHNER's name, of course. But as an independent department, we are also free to operate neutrally as regards products and thereby enhance our credibility. Safety is all we care about, and our customers like this.
Exactly how does the Safety Services department support customers?
Ullrich: We accompany customers throughout their machine's life cycle. This begins as early as during the conformity assessment process and proceeds through to affixing a CE marking on the machine. We're also authorized to sign the conformity declaration. On the operating organization side, we assist in the hazard assessment and comparing the plant's actual condition with the state of the art. We can also help with conversion work, assessing for assemblies of machinery and conducting the statutory tests on existing machines. In other words, our range covers everything from consultation and safeguard inspections to our new engineering services and training offerings.
What kinds of issues do customers frequently bring to you?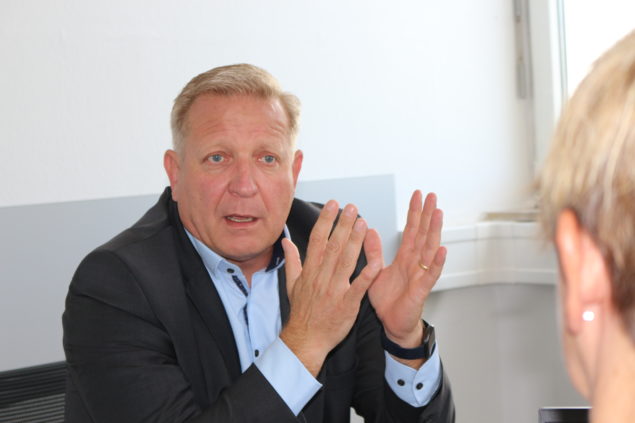 Ullrich: Customers first come to us for advice, and their issues couldn't be more varied. Some customers want their machines analyzed for potential hazards, for example. Or they need help compiling their documentation in compliance with the law. Others are uncertain about the right way to implement the conformity assessment process. Still others would like to have their existing machines assessed.
On the operating organization side, the concerns often involve checking the machines' state of the art or retrofitting and converting machines or installations. Many customers don't know how they can continue operating their plants safely after a conversion, or how this affects the legal requirements. The question of what constitutes a "signification modification" plays a key role here, as do the possible consequence of a new CE marking. I estimate that over 95 percent of conversions aren't to be regarded as significant modifications. This means the operating organization will have to document, inspect and ultimately verify the conversion, but a new CE marking won't be necessary.
What is behind Safety Engineering?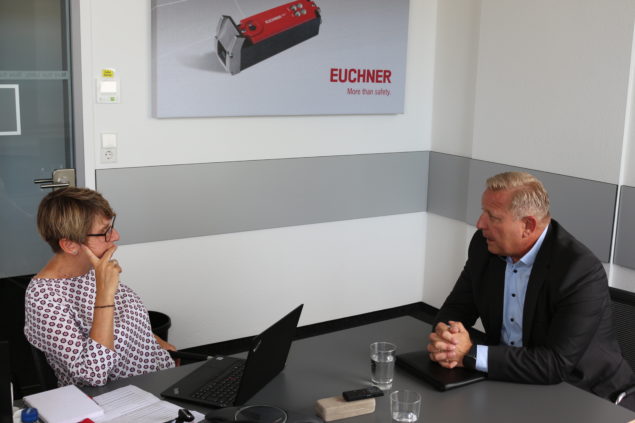 Ullrich: Safety Engineering is a new department within Safety Services. This expansion lets us offer complete packages tailored to machine operating organizations. The first step is advising our customers, clarifying the legal requirements and compliance standards with them and producing the documentation. The second step, safety engineering, involves developing and implementing the best solution together with them. This means we take care of the additional building modifications and any required components, regardless of whether the customer uses our safety engineering or products from another manufacturer.
In other words, customers can get everything they need from you – consultation, documentation, engineering and inspection.
Ullrich: Yes, this has proven to be exactly what our customers want. They often lack the expertise or resources to implement a solution for a safe machine. That's why they need a reliable partner by their side to do this work for them, selecting and integrating the appropriate technology as necessary. And that's not all we can do for them. Our work as service providers has always involved analyzing plants, writing documentation and ferreting out safety defects. However, putting the measures from our safety concept into practice always required hiring another company to do the work until now. Customers had to mediate between us and the engineering partner whenever a problem arose, resulting in things falling by the wayside or costing them far too much time and money. They can now get everything they need from us; we can even train their personnel.
And you established an academy solely to provide this training?
Ullrich: Yes, the EUCHNER Academy opened early this year. The Academy provides training courses throughout Germany and directly at our customers' place of business. We can also customize the in-house seminars as needed. Customers really appreciate this. Our training program includes a four-day course for machine operating organizations, complete with a certificate qualifying them as experts for the safe operation of machinery. All of the instructors are EUCHNER specialists with well-founded expertise in machinery safety.
What changed for you due to the new department? And what other changes are on the way?
Ullrich: Our discussions with customers are much more thorough; we devise solutions together and go into greater detail. Our machinery safety expertise was already in demand, and now we're contributing engineering expertise too. The contacts are also new – the safety engineer is now a design engineer who must deal with entirely different tasks. It's all very different and exciting. We're seeing a steadily growing demand for consultation, engineering and inspection services across sectors such as the automotive, food, pharmaceutical and chemical industries, to name just a few. Our team is perfectly positioned.
Honestly, what makes EUCHNER Safety Services unique?
Ullrich: I'd have to say our complete package – and especially our broad engineering spectrum in this regard. Safety is our thing, but not our only thing. One big advantage is that the experts in our team can cover all disciplines from fluidics to mechanical and electrical engineering – including hardware as well as safety and standard software. We even construct our own control cabinets and can build small machines entirely on our own.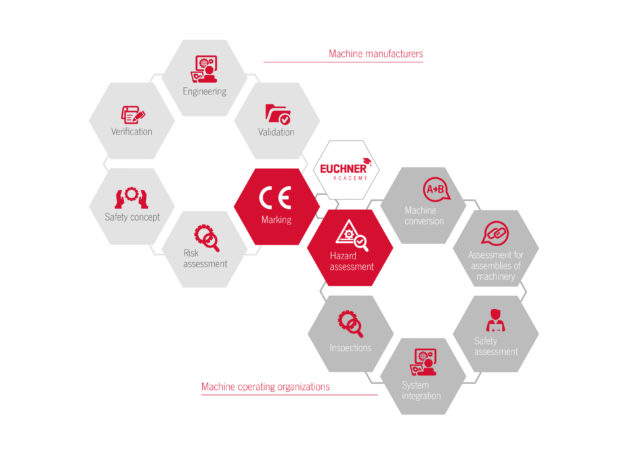 14.02.2023