EUCHNER at the AMB trade show, Hall 8, Stand 8C61
When it comes to protecting people from danger and safeguarding processes in manufacturing operations, the metal processing industry has trusted industrial safety engineering from EUCHNER for decades. The company is showcasing its latest safety solutions with Industry 4.0 communication capability at the 2022 AMB trade show. Featured products include the new, compact CTS guard locking device and the flexible all-rounder among the key systems, the new CKS2 for machines and installations.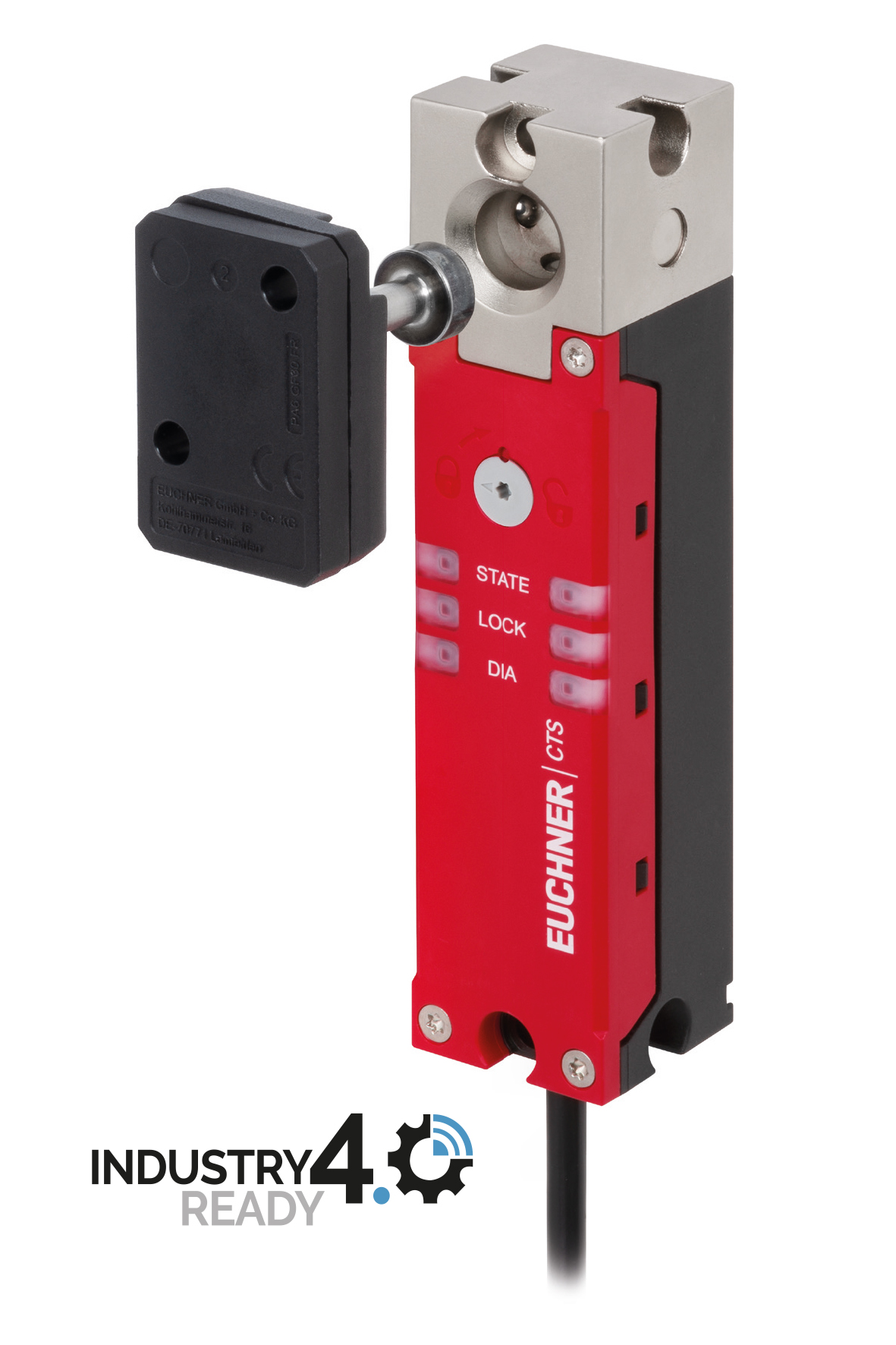 Small size, high locking force, flexible installation
The CTS safety switch features an impressive locking force, a compact design and flexible mounting options. Measuring only 135 x 31 x 31 mm, the CTS provides a maximum locking force of 3,900 N. For hinged or sliding doors or extremely small door radii – three different switch mounting directions and a universal actuator with floating bearing enable the CTS to be used almost anywhere. An extendable escape release can be added at any time. The transponder-based safety switch with guard locking guarantees maximum safety because it meets all requirements for category 4/PL e according to the EN ISO 13849-1 and EN ISO 14119 standards.
With its new "FlexFunction," the CTS combines in a single device multiple functions that are otherwise available only in separate variants. This means users can choose whether the CTS operates with or without guard lock monitoring and evaluates the actuator code using a high or low coding level. Functions are selected via the matching actuator. Industry 4.0-ready with the CTS: in addition to communicating intelligently when connected in series with other EUCHNER devices, the new switch can also connect to IO-Link.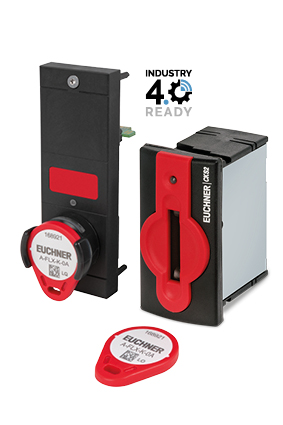 One device, many applications: the CKS2 safe key system
The CKS2 from EUCHNER is a new, safe key system that is simple to integrate into the overall control system and suitable for a wealth of applications. By selecting the appropriate RFID key during initial setup, the user decides whether the device should be used as a simple means of starting and stopping machines and processes, as an electronic authorization system for multiple operators or as a trapped key system, for example. Configuration takes place when the key is taught-in for the first time. The system can be reconfigured to perform different functions at any time. EUCHNER calls this versatility "FlexFunction." Highly coded, transponder-based keys ensure the highest possible safety level. The system can be connected to IO-Link using the Gateways from EUCHNER. This enables users to implement comprehensive diagnostic and communication functions, such as determining which key was used to operate the installation. The CKS2 is also available as a submodule for the MGB2 Modular, opening up many new applications for this successful door locking system.
In addition to presenting its new products, EUCHNER will also be exhibiting its proven safety solutions for the metal processing industry at the trade show. These include the CTA safety switch with a robust metal housing and a locking force up to 8,000 N that is ideally suited to heavy doors and harsh ambient conditions. Another featured EUCHNER product is the MGBS safety door protection device. It is the perfect choice wherever the available space is tight and can be mounted on safety fence corner posts, for example. Visitors can also learn more about the benefits provided by the highly flexible MGB2 Modular safety door protection device, which is now available for Ethercat P with FSoE in addition to connections with PROFINET/PROFIsafe and EtherNet/IP with CIP Safety.
10.08.2022