Euchner at the FACHPACK 2022 trade show – Hall 3C, Stand 135 (Packaging Valley joint stand)
Whether for packaging, filling or palletizing foods, cosmetics and pharmaceutical products, safety engineering is crucial when it comes to protecting people, machinery and processes from hazards and malfunctions throughout the packaging process. Euchner combines innovative safety engineering with today's communication requirements for automating networked machines and installations. Euchner's safety systems are just as suitable for Ethernet-based protocols such as Ethernet/IP, PROFINET or EtherCAT as they are in the ASi or IO-Link environment. Integration is simple and considerably reduces the amount of wiring and diagnostic work. As a pioneer in this field, Euchner will be showcasing its latest, Industry 4.0 ready developments at the FACHPACK trade show: the new CKS2 safe key system, the highly compact CTM guard locking device with hygienic variant for small doors and flaps and the new CTS safety switch offering an impressive locking force despite its compact size.
CKS2 – lockout and starting with a single system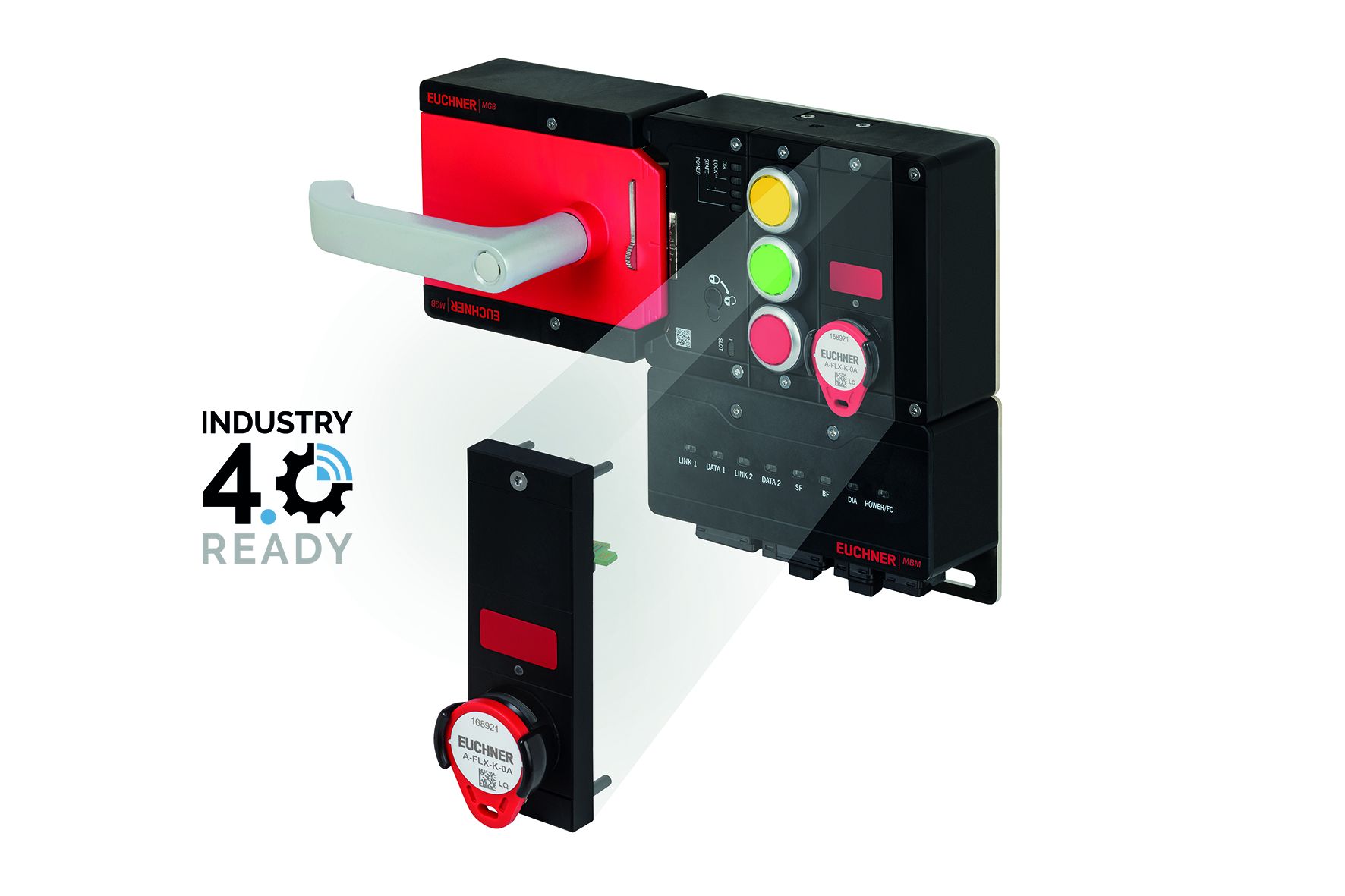 The new CKS2 safe key system can be used for machine and installation lockout and starting, for assigning authorization to select an operating mode, or as a trapped key system. When combined with highly coded RFID keys, the CKS2 key adapter forms a safe system providing maximum protection against tampering. Integrating the evaluation electronics forms a compact system that can be paired with Euchner IO-Link Gateways to enable comprehensive diagnostic and communication features for users, such as the option of reading the key that was used to operate the installation. The CKS2 is also available as a submodule for the MGB2 Modular safety door system, opening up diverse new applications on the safety fence.
One key can generally be assigned to several key adapters in different installations. What's more, the system is flexibly scalable regarding the number of keys. In addition to use in complete turnkey installations, the CKS2 is particularly suitable for applications such as fully automated palletizing installations and logistics systems in the packaging and intralogistics sector.

Unbeatably compact, smart and Industry 4.0 ready – the CTM door locking device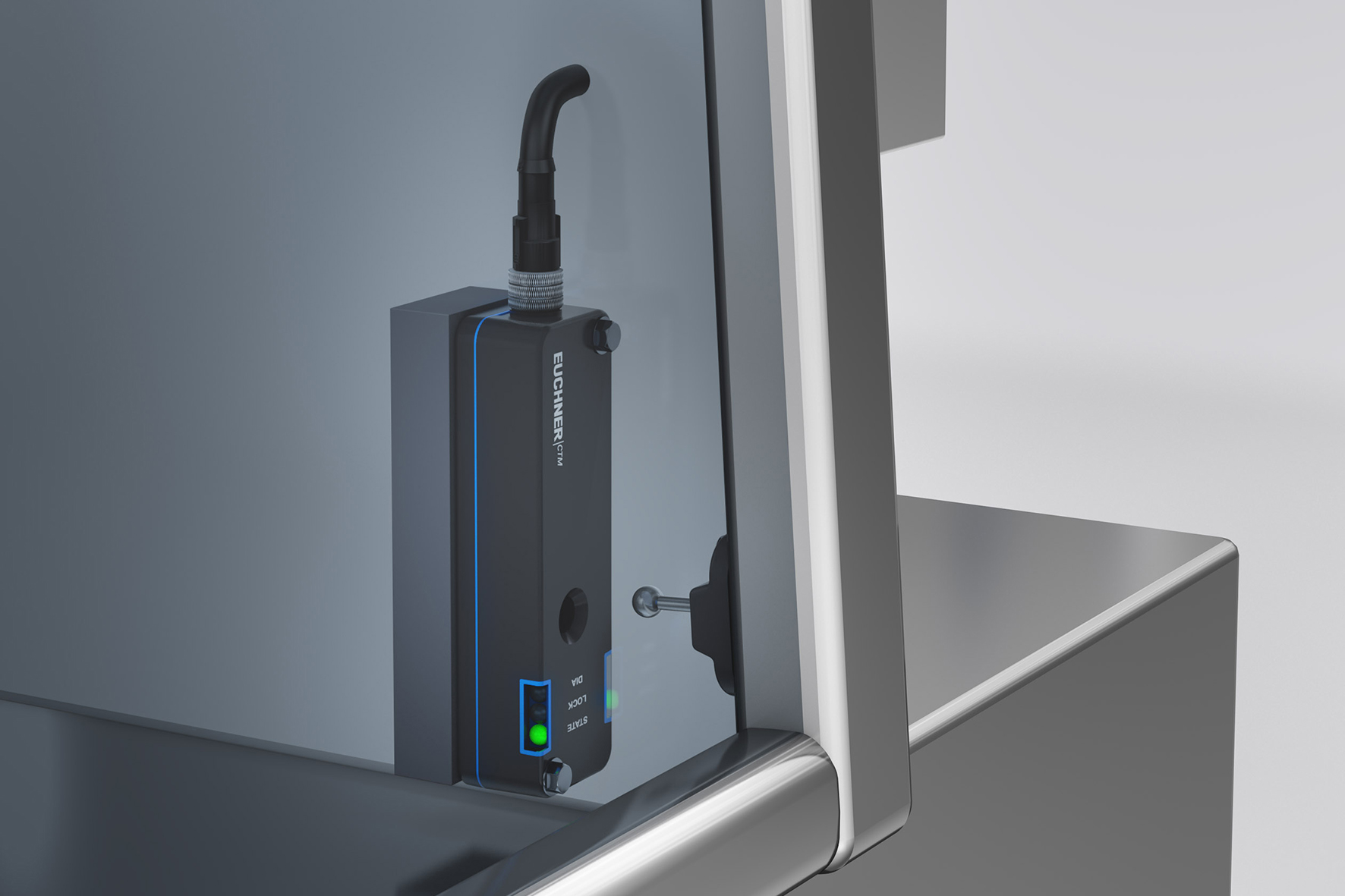 Small, bistable guard locking device with the highest possible safety level – plus a hygienic version: boasting impressively small dimensions of just 120 x 36 x 25 mm, the CTM was specially developed for use on small, lightweight doors in the primary packaging sector and the food industry. As one of the smallest guard locking devices on the market, it is particularly easy to integrate into the machine design. It can even secure doors with extremely small pivoting radii. The bistable guard locking function ensures that the door is kept locked even in the event of a power failure. The CTM is therefore ideal for the protection of persons and processes and complies with the maximum safety level PL e. Additionally, it is future proof thanks to its smart communication via IO-Link and is Industry 4.0 ready by design. Connecting it in series with other Euchner devices is a snap. The integrated interface additionally enables connection to the Euchner Gateway, which forwards the data via IO-Link to the higher-level control system.

The compact power pack offering a high locking force and flexible mounting options – the new CTS safety switch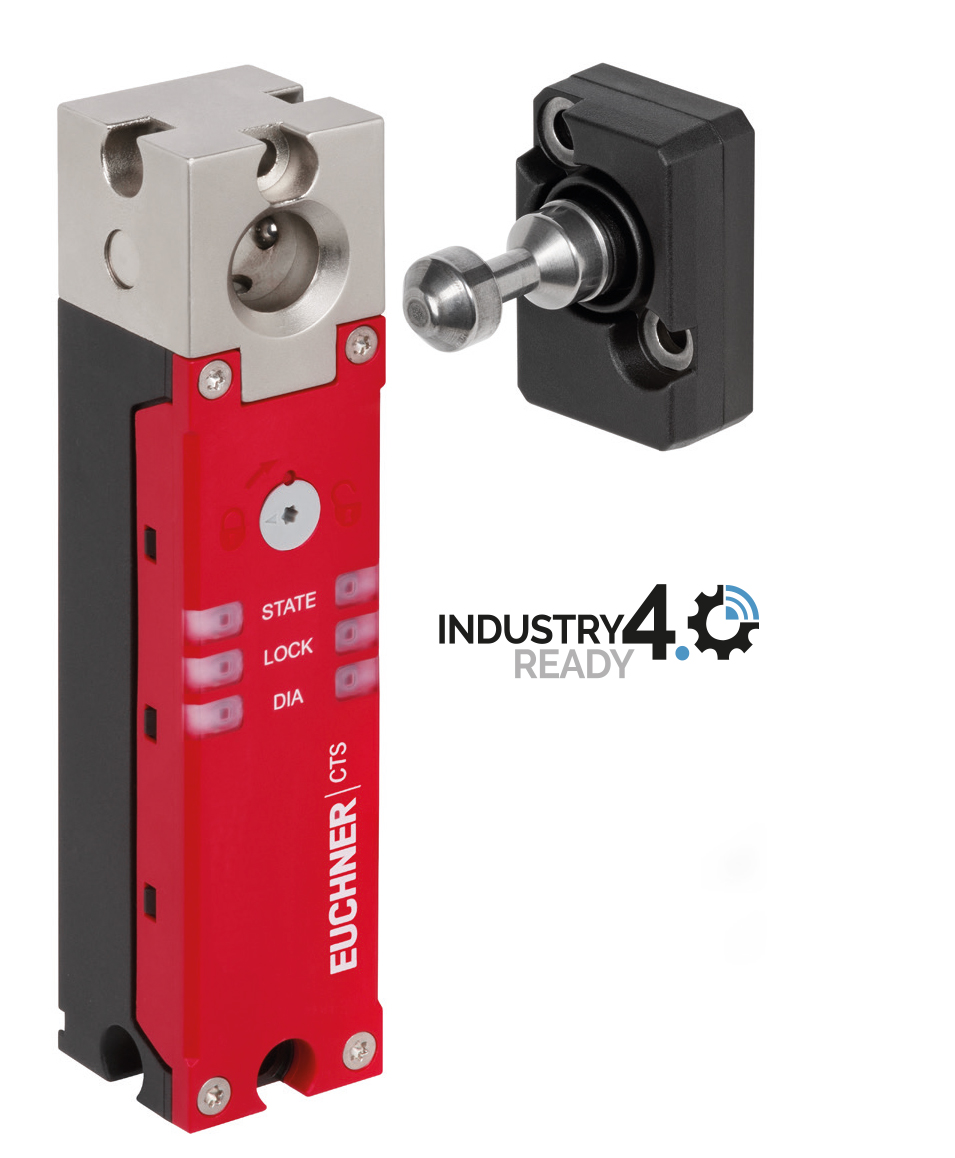 The CTS is the right choice for anyone looking for a compact safety switch with an exceptionally high locking force. Measuring only 135 x 31 x 31 mm, the safety switch provides a maximum locking force of 3,900 N. With three different mounting directions and a universal actuator on a floating bearing, the CTS can be used almost anywhere – on hinged or sliding doors or for extremely small door radii. An extendable escape release can be added at any time. This transponder-based safety switch with guard locking complies with the highest safety requirements of category 4 / PL e.
The CTS combines in a single device multiple functions that are otherwise available only in separate variants. Users can choose whether the CTS operates with or without guard lock monitoring or whether it evaluates the actuator code using a high or low coding level. Responsible for this flexibility is the new, patented FlexFunction principle according to which functions are selected via the suitable actuator. This switch is also Industry 4.0 ready: in addition to communicating intelligently when connected in series with other Euchner devices, the new switch can also connect to IO-Link through a corresponding Gateway.
17.08.2022