Safety tasks, such as ensuring access restriction, safe installation lockout and starting, and selection of the operating mode, play an important role in modern facilities. These tasks are often complex, but solving them can be simple: The CKS2 from Euchner is a new, safe key system that is simple to integrate into the overall control system and can be used in a wide range of applications. The CKS2 is also available as a submodule for the MGB2 Modular, allowing many new applications to be implemented for this successful door locking system.
As a lockout system, authorization system or trapped key system, the CKS2 is the right choice wherever dangerous machine movements must be safely started or stopped independently of the existing safeguards. Integrated evaluation electronics in the key adapter station provides a compact system that guarantees maximum safety for users through the use of highly coded RFID keys.
One device – many functions thanks to FlexFunction
The new FlexFunction feature is the key to this great versatility. It couldn't be simpler to use: users define the application for the system when setting it up for the first time. They then select the suitable RFID key to activate exactly the device functions they need. Parameter assignment takes place when the key is taught-in for the first time. This leaves the key adapter with only one safety function to perform: safely detecting the key. Once the key is recognized as valid, the safety outputs are switched on. One key can also be assigned to multiple key adapters of different installations. Connecting to IO-Link is also possible using the appropriate Euchner gateway. This can provide comprehensive diagnostic and communication functions, such as identifying the key that was used to operate the installation. With its diverse application options, the CKS2 FlexFunction device provides additional benefits in terms of warehousing and procurement as well.
The key system for the MGB2 environment
In the MSM-CKS2 submodule version, the key system can also be seamlessly integrated into the MGB2 Modular – adding even more application options for the successful door locking system from Euchner and providing attractive new solutions for fully automated logistics systems or complete turnkey installations, for example. In the MGB2 environment, the submodule is linked via PROFINET/PROFIsafe or EtherCAT/FSoE. No complicated configuration or complex key management. The electronic principle of operation means that users can dispense with key exchange boxes and key distribution stations. Applications are defined directly in the control system for unlimited flexibility.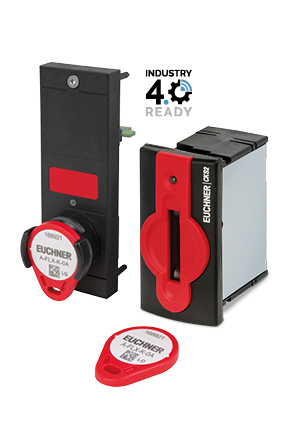 07.06.2022