EUCHNER at the Hannover Messe 2023 trade fair: Hall 9, Stand D16
Digitalization is spreading fast in the production and process industry. Safety engineering solutions from EUCHNER with communication and networking capabilities are helping businesses to shape this transformation. At this year's Hannover Messe, EUCHNER, the pioneer in this field, is presenting its latest smart safety solutions. These include new features for the highly versatile MGB2 Modular safety door system, which is now available with a new bus module for connection to the EtherCAT/FSoE bus protocol. Other product highlights are the new CKS2 key system and the compact guard locking device CTS.
MGB2 Modular: New networking options for EtherCAT/FSoE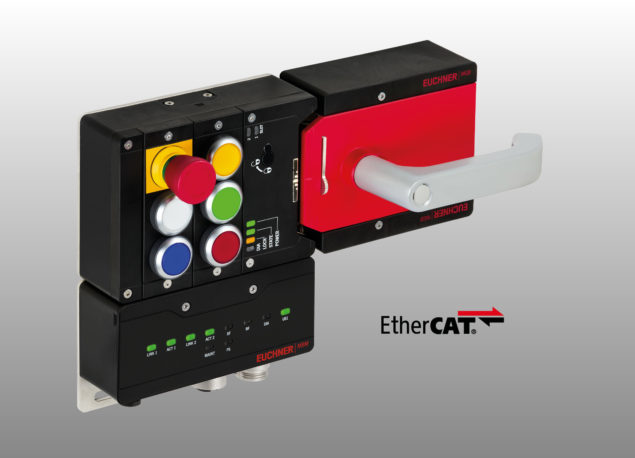 EUCHNER is increasing the number of fieldbus protocols compatible with its well-established MGB2 Modular safety door system. Alongside the PROFINET/PROFIsafe and EtherCAT P/FSoE bus protocols, EUCHNER is launching an MBM bus module that connects to the safe EtherCAT/FSoE protocol.
The MGB2 Modular secures the access points in safety doors and fences that protect the danger areas of machines and plants. The entire system is modular and can be designed to meet individual requirements. It consists of a locking module with submodules for controls and indicators, plus optional expansion modules. Users choose the MBM bus module for their specific connection. The locking module of the MGB2 can be connected directly to all the bus modules or fitted separately and linked using cables. The advantage of a remote bus module is that several MGB2 Modular locking modules and separately fitted expansion modules can be connected to the same bus module. This allows for a lot of flexibility in the design of the plant and reduces hardware costs. These individual smart devices supply a variety of diagnostic data in the form of EtherCAT or PROFINET messages, including voltage, temperature and switching cycles. The integrated web server gives users a rapid, detailed overview of the status of the device whenever required.
CKS2 – One key, many functions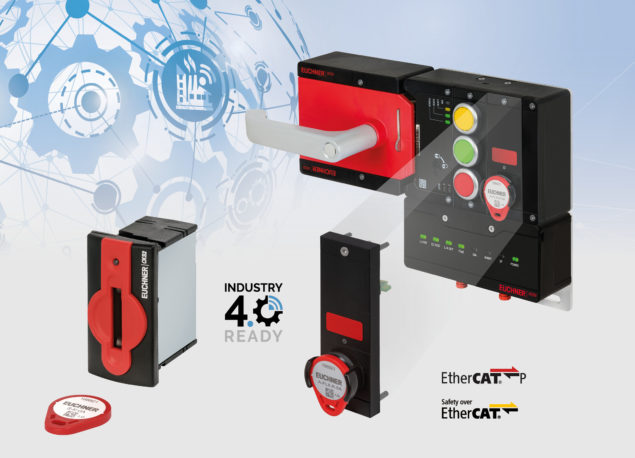 In modern plants, safety is an essential requirement. This includes the ability to lock and start machines safely, restrict access to certain areas and select the operating mode. EUCHNER supplies the CKS2 key system to perform the sometimes complex tasks of this kind. It is a solution with a simple connection to the overall control system of machines and plants. The proven transponder technology and the use of one or more keys with a high coding level ensure maximum safety. The CKS2 is a compact system with integrated evaluation electronics for installation in machines and plants. It is also available as a submodule for the MGB2 Modular door locking system. This allows users to access comprehensive diagnostics data and communication functions either in connection with an IO-Link Gateway from EUCHNER or via the fieldbus directly from the MBM bus module.
One fits all – the new FlexFunction CTS safety switch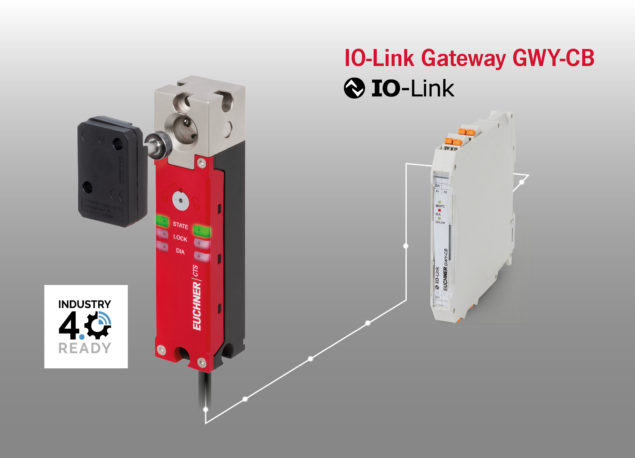 The most recent guard locking device from EUCHNER is the CTS. Its features include a high locking force, compact design and maximum flexibility. The switch is ideal for machines and plants where a high locking force is needed and the space available is limited. Measuring only 135 x 31 x 31 mm in size, it delivers a maximum locking force of 3,900 N, which opens up a wide range of potential applications. The CTS can be installed in three different directions and is therefore suitable for both hinged and sliding doors. In addition, an escape release can be added at any time. This transponder-coded safety switch with guard locking provides the highest levels of safety.
Developed as a FlexFunction switch, the CTS also combines in a single device multiple functions that are otherwise available only in separate variants. With or without guard lock monitoring and with a high or low coding level for actuator code evaluation – the choice is up to the user with CTS. The functions are selected via the appropriate actuator. As with most EUCHNER switches, the CTS also has a variety of connection options.
17.02.2023