EUCHNER at the interpack trade show: Hall 18, Stand F15
Automated packaging processes call for innovative safety engineering in line with modern communication requirements for machine and installation automation. EUCHNER is driving innovation in this field by developing safety switches and systems for all commonly used fieldbus systems and for communication via IO-Link and AS-i Safety at Work. The company is presenting its latest innovations at the interpack trade show: the CKS2 key system, the compact locking device CTS and the MGB2 Modular safety door system – which is now also available for connection to the EtherCAT/FSoE fieldbus protocol.
CKS2 – one key, many functions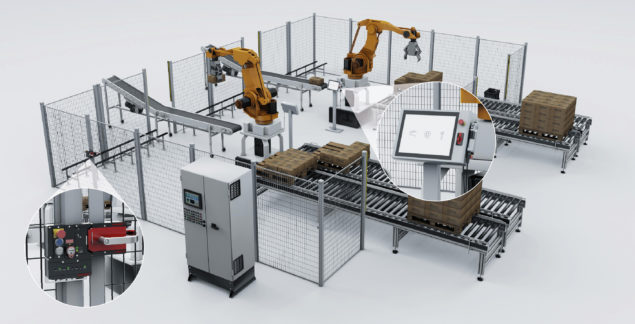 The new CKS2 key system can be used for machine and installation lockout and starting, for assigning authorization to select an operating mode, or as a key transfer system. Integrating it into the system's overall machine and installation control system couldn't be simpler. The system guarantees maximum safety thanks to its highly coded RFID keys. The CKS2 is available as a compact system with integrated evaluation electronics for installation in machines and installations and as a submodule for the MGB2 Modular door locking system. Its proven transponder technology and the use of one or more keys with a high coding level ensure maximum safety. As a submodule for the MGB2, the key system combined with the highly functional door locking system forms an unbeatable duo for a wealth of new applications. In addition to its use in packaging machines, the CKS2 is suitable for applications such as fully automated palletizing installations and large logistics installations in the packaging industry and the intralogistics sector in particular.
With the CKS2, users can access comprehensive diagnostics data and communication functions either in connection with an IO-Link Gateway from EUCHNER or via the fieldbus directly from the associated bus module with integration into the MGB2 door locking system.
MGB2 Modular: new networking options for EtherCAT/FSoE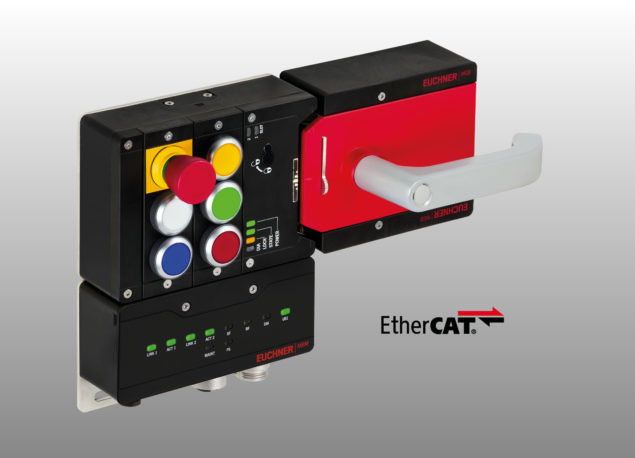 EUCHNER now offers even more available connections to fieldbus protocols for the highly functional MGB2 Modular safety door system. Alongside the PROFINET/PROFIsafe and EtherCAT P/FSoE bus protocols, an MBM bus module for connection to the safe EtherCAT/FSoE protocol is now also available. The MGB2 Modular secures the access points in safety doors and fences protecting the danger zones of machines and installations. The overall system is modular and can be designed to meet individual requirements. It consists of a locking module with submodules for controls and indicators, plus optional expansion modules. Users choose the MBM bus module for their connection. The locking module of the MGB2 can be connected directly to all the bus modules or fitted separately and linked using cables. The advantage of a remote bus module is that several locking modules and separately fitted expansion modules can be connected to the same bus module. This allows for a lot of flexibility in the installation design and reduces hardware costs. These individual smart devices supply a variety of diagnostic data in the form of EtherCAT or PROFINET messages, including voltage, temperature and switching cycles. The integrated web server gives users a rapid, detailed overview of the device status whenever required.
One fits all – the new FlexFunction CTS safety switch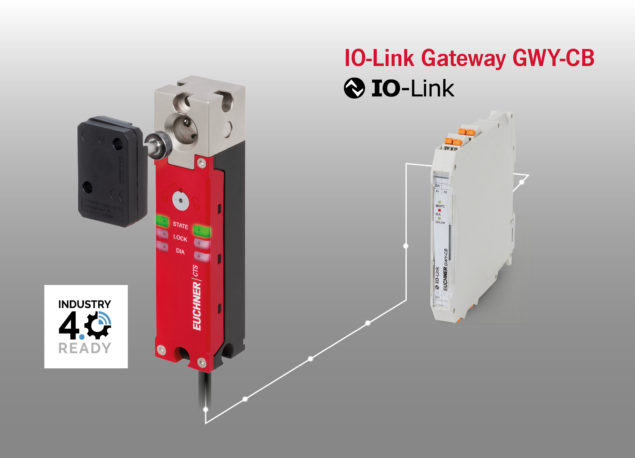 High locking force, a compact design and maximum flexibility are the hallmarks of the new CTS guard locking device. This safety switch is ideal for machines and installations requiring a high locking force in a limited amount of space. Measuring only 135 x 31 x 31 mm in size, it delivers a maximum locking force of 3,900 N for countless application options. The CTS can be installed in three different directions and is therefore suitable for both hinged and sliding doors. In addition, an escape release can be added at any time. This transponder-coded safety switch with guard locking provides the highest levels of safety.
Developed as a FlexFunction switch, the CTS also combines in a single device multiple functions that are otherwise available only in separate variants. With or without guard lock monitoring and with a high or low coding level for actuator code evaluation – the choice is up to the user with CTS. Functions are selected via the appropriate actuator. As with most Euchner switches, the CTS also features a variety of connection options.
A complete safety package – with industrial safety engineering from EUCHNER
Thanks to the comprehensive EUCHNER range and numerous product variants, users are sure to find the right solution to suit their specific requirements. EUCHNER offers safety systems with and without guard locking, door locking systems, key systems, controls, small control systems and safety relays.
14.03.2023